Released: Filed Under: Archive Library Tagged With: Lincoln-Douglas, NCFCA, Season 11
About "Popular Sovereignty vs Individual Rights"
The following consists of the complete season release of cases and briefs from for the topic "Popular Sovereignty vs Individual Rights." Upon purchase, you will have access to Word documents containing each of the cases and briefs listed. NOTE: Notice the release dates at the footer of every page. It is strongly advised to check each hyperlink before running any piece of evidence in an official debate round.
Resolved: A government's legitimacy is determined more by its respect for popular sovereignty than individual rights.
Original Release of Red Book – August 1, 2010
Contributors
Introduction
Section 1: Articles

Discussions on key terms, theories, philosophies, and applications
Understanding LD in This Year's Resolution
1. The Resolution:

What, Where, and Who? Ideas and Discussions on Government Legitimacy by Samuel Johnson
The Purpose Driven Government: Various Philosophies on the Purpose of Government by Susanna Griffith
Individual Wants, uh, I mean Rights: The evolution of basic human rights to desires for education, vacation and a can of coke by Shane Baumgardner

2: The Theory

The Impossible Choice: Balanced Negative Theory Article by Mackenzi Siebert
How to Not Hate Yourself for Running a Kritik: A Discourse on Kritik Theory By Travis Herche
You Did WHAT With My Puppy? A quick guide through the art of avoiding the fallacy of equivocation by Jesse Byrnes

3: The Philosophy and Application

The Social Contract Trio: Enlightenment Political Philosophy by Adam Nasser
Legally Legit: The Primacy of the Western Legal Tradition by Joanna Griffith
Who Put YOU in Charge? An explanation of the creation and destruction of the theory of the Divine Right of Kings by Susanna Griffith
The Fourth Tier: Special Interest Groups, Advocacy Groups, and Lobbying Organizations as Unelected Policymakers by Mackenzi Siebert
Individualism vs. Collectivism: How popular sovereignty and individual rights clash by Chase Harrington
Reasons for Revolution: The Resolution in Political History by Sarah Sanderlin
¿Qué qué? Spain and the Decolonization of Ideas: Legitimacy of Government in Regards to Popular Sovereignty & Individual Rights by Jesse Byrnes
Don't Tread on Me! Libertarianism and the Protection of Freedom by Rachel Seay

Section 2: Cases

Philosophies Transformed into Solid, Usable Cases
Understanding the Resolution in This Year's Cases
1: The Affirmative

Breaking down the Contract: A Core Value Affirmative Case by Adam Nasser
Telos Through a Tenuous Stability: Core Value Affirmative Case by Joanna Griffith
On a Scale of 1 to 5…: Core Value Plus Affirmative Case by Jesse Byrnes
The "Right" Standard: Value Plus Affirmative Case by Samuel Johnson
Ear to the Ground | Listening to the People!: A Value-Plus Affirmative Case by Mackenzi Siebert
That's Not Fair! A Value Plus Affirmative Case by Susanna Griffith
When People Disagree: Anti-Value Affirmative by Shane Baumgardner

2: The Negative

Two Wolves and a Sheep: Negative Core Value case by Chase Harrington
Libertarianism and the Protection of Rights: A Value Plus Negative Case by Rachel Seay
You can be happy. Government can help. Value Plus Negative Case by Susanna Griffith
Resolutional Revolutions: Value Plus Negative Case by Sarah Sanderlin
"Steadyyy…" A Balanced Ajax Negative Case by Jesse Byrnes
The Height of Injustice: Making an Impossible Choice: A Balanced Negative Case by Mackenzi Siebert
No Conflict: A Negative Resolutional Kritik by Travis Herche
Midseason Release of Red Book – December 31, 2010
Contributors           
Section 1: Affirmative Cases & Briefs

"That to Secure these Rights…": A Value-Plus Case by Whitney Snowden
"Check: Check One, Two, Three": An Affirmative Empirical Brightline Case by Jon Bateman
Utilitarianism: Philosophical Criterion Case by Patrick Ortiz
Utilitarianism: Negative Rebuttal by Patrick Ortiz

Section 2: Negative Cases & Briefs

"Now that's a Purposeful Case!": A Value-Plus Case by Jon Bateman
"More By Other Rights": A Value Centered Case by Matthew Mittelberg
Kantian Morality: A Value Plus Case by Patrick Ortiz
It Ayn't Easy Being Me: A Value Plus Case by Patrick Ortiz
"Accountability, Transparency, and Legitimacy": A Value-Plus Case by Brent Pinero
"Of the People, By the People, For the People.": A Value-Plus Case by Benjamin Simon

Section 3: Articles

The Purpose of Government by Jon Bateman
"I Have High Standards": Evaluating the Resolution by Jon Bateman
Responding to "Relative" Rights: Trying to find consistency in Individual Rights by Matthew Mittelberg
Morality: With MILLions of theories, I KANT decide!: Consequentialism vs. Deontology by Patrick Ortiz
There's No Ayn In Team by Patrick Ortiz
"Cross-Examination: Questioning Legitimacy": Q&A Time- A CX Primer on Legitimacy by Benjamin Simon
"6 to 5: Majority Rules": A deep look into the theory on the tyranny of the majority by Natasha Torrens
"Banning the Burka": Exploring a useful and relevant application by Whitney Snowden
"Back to the Basics": Exploring Foundations of Government by Carys Aschmutat
Purchase includes Word documents covering the content listed above.
History of This Resolution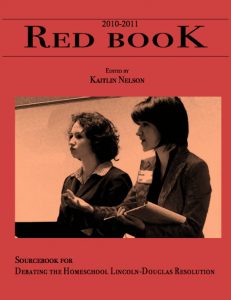 This sourcebook was provided in print edition for the 2010-2011 homeschool resolution for both NCFCA and Stoa leagues. Two National Tournaments were held on each American shore: NITOC (Stoa) in San Diego and NCFCA Nationals in Virginia Beach. Monument Publishing hosted NITC camps at both of these national tournaments and proudly graduated one of Red Book's authors, Chase Harrington, to secure the Championship Lincoln-Douglas Award at NITOC. Contributors to these editions of Red Book included both the 2010 LD NCFCA Champion Adam Nasser as well as the 1st Place Speaker Award Winner, John Ehrett.
Red Book released both its summer publication and a midseason supplement for the 2010-2011 school year, of which this download includes both. Contributors to this edition included Kaitlin Nelson (Editor), Adam Nasser, Chase Harrington, Shane Baumgardner, Rachel Seay, Travis Herche, Sarah Sanderlin, Mackenzi Siebert, Joanna Griffith, Samuel Johnson, Susanna Griffith, Jesse Byrnes, Carys Aschmutat, Jon Bateman, Matthew Mittelberg, Patrick Ortiz, Brent Pinero, Ben Simon and Natasha Torren.