Developer:
Released: Filed Under: NFHS Policy
About "Mexico (NEG)"
The case to decrease arms sales to Mexico is, on its face, quite strong. There aren't very many reasons not to pass the plan, which is why most of this brief focuses on mitigating arguments. First, the problem isn't nearly as significant as the affirmative would have you believe. The United States doesn't sell that much more to Mexico in weapons than the actual aff mandate requires, and most of Mexico's arms aren't even from America at all. The most developed argument, however, is solvency. Point out that there are multiple strong reasons that decreasing our weapons sales wouldn't have much of an effect on the supposed problem in Mexico; rather, we'd simply lose the benefits that we currently gain from our arms exports.
Directions
Download the document with the button above. Study this release and get to know it well. File and print as necessary to prepare for your upcoming competition.
This download is exclusively for Monument Members. Any use outside this membership is a violation of U.S. Copyright Law and violators will be prosecuted.
As always, double check all claims, warrants, hyperlinks and the current news in case any changes have occurred that will affect your competition.
Do you have questions about this download? Tap in your comment at the bottom of the page. The author, the site owner, or another member will most likely reply.
Permission & Usage
Click Here for complete information on permissions. All Membership content and Library Archives are proprietary intellectual content, so please respect our copyrights. Simply put, if you are not a Monument Member or a Library Access Owner you may not use it or share its content. If one partner of a debate team is a member and the other is not, the one who is a Monument Member must be the controller of the logins, downloads and incorporation of the Monument Membership material. Sharing logins is strictly prohibited, the only exception being from immediate family members within a single household.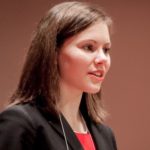 Kirstin competed in NCFCA in eight speech categories, as well as both Lincoln-Douglas and Policy debate. She ranked in the top 4 at Nationals in three speech events and advanced to debate finals at five tournaments, three of which she won. Her favorite accomplishment was receiving first place at Nationals her senior year in Impromptu. Kirstin is currently a student at Wheaton College majoring in music and enjoys running her own calligraphy business on the side.