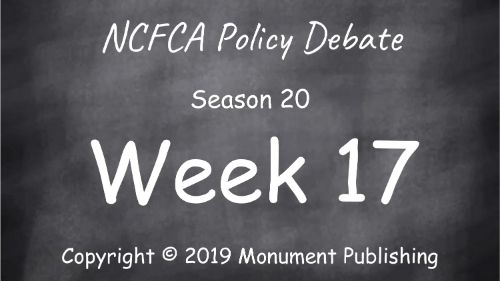 Developer:
Released: Filed Under: NCFCA Policy
About "EX-IM Fossil Fuel (AFF)"
Case Summary: The Export-Import Bank is a federal "corporate welfare" scheme that gives subsidized loans to businesses engaged in international trade. The goal was to increase the ability of US businesses to export abroad, thus creating jobs in America. The reality is, of course, quite different. While this case does not deal with the overall wisdom or lack thereof to continuing the Ex-Im Bank (beyond the scope of the resolution), we do deal here with the Bank's funding of subsidized fossil fuel projects. These projects cause pollution, environmental harms, and wreck poor communities in developing countries. Oil and gas companies don't need taxpayer money to help them wreck the environment or to pad their profits. It's time to cancel Export-Import Bank fossil fuel projects.
NOTE: This is NOT the same as cases dealing with "fossil fuel subsidies" in general. Those are mostly talking about tax breaks to oil, gas or coal companies for generating resources within the U.S.
Directions
Download the document with the button above. Study this release and get to know it well. File and print as necessary to prepare for your upcoming competition.
This download is exclusively for Monument Members. Any use outside this membership is a violation of U.S. Copyright Law and violators will be prosecuted.
As always, double check all claims, warrants, hyperlinks and the current news in case any changes have occurred that will affect your competition.
Do you have questions about this download? Tap in your comment at the bottom of the page. The author, the site owner, or another member will most likely reply.
Permission & Usage
Click Here for complete information on permissions. All Membership content and Library Archives are proprietary intellectual content, so please respect our copyrights. Simply put, if you are not a Monument Member or a Library Access Owner you may not use it or share its content. If one partner of a debate team is a member and the other is not, the one who is a Monument Member must be the controller of the logins, downloads and incorporation of the Monument Membership material. Sharing logins is strictly prohibited, the only exception being from immediate family members within a single household. 
Coach Vance debated in National Forensic League debate while in high school from 1979-1982. In college, he judged at high school NFL tournaments in North Carolina. A homeschooling dad himself, he realized the growing potential and benefit of homeschool debate and switched over to coaching homeschoolers a couple years later. In 2001, he helped Chris Jeub with bringing The Blue Book to a more advanced level. He has been co-authoring Blue Book ever since.