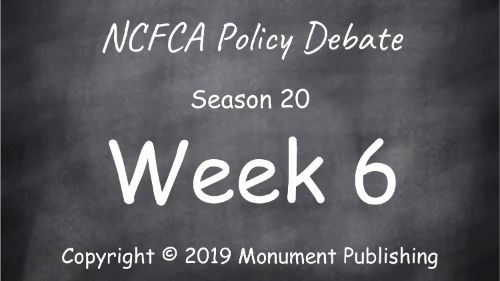 Developer:
Released: Filed Under: NCFCA Policy
About "Offshore Oil Drilling"
The government leases out some of our oceans to energy companies to drill for oil and natural gas. This is known as offshore drilling – the production of oil and gas offshore. The premise of the affirmative case is simple: offshore drilling is beneficial, so we should increase it. Offshore drilling creates jobs in the drilling industry and increases our oil and natural gas supply. Having more oil and gas means oil and gas prices will be lower, we won't need to import as much oil, and we can export oil and gas to other countries. This will benefit our economy and increase national security as we will have a guaranteed supply of essential resources. The negative brief provides evidence again the affirmative case.
Directions
Download the document with the button above. Study this release and get to know it well. File and print as necessary to prepare for your upcoming competition.
This download is exclusively for Monument Members. Any use outside this membership is a violation of U.S. Copyright Law and violators will be prosecuted.
As always, double check all claims, warrants, hyperlinks and the current news in case any changes have occurred that will affect your competition.
Do you have questions about this download? Tap in your comment at the bottom of the page. The author, the site owner, or another member will most likely reply.
Permission & Usage
Click Here for complete information on permissions. All Membership content and Library Archives are proprietary intellectual content, so please respect our copyrights. Simply put, if you are not a Monument Member or a Library Access Owner you may not use it or share its content. If one partner of a debate team is a member and the other is not, the one who is a Monument Member must be the controller of the logins, downloads and incorporation of the Monument Membership material. Sharing logins is strictly prohibited, the only exception being from immediate family members within a single household. 
Coach Vance debated in National Forensic League debate while in high school from 1979-1982. In college, he judged at high school NFL tournaments in North Carolina. A homeschooling dad himself, he realized the growing potential and benefit of homeschool debate and switched over to coaching homeschoolers a couple years later. In 2001, he helped Chris Jeub with bringing The Blue Book to a more advanced level. He has been co-authoring Blue Book ever since.