Released: Filed Under: Archive Library Tagged With: NCFCA, Policy, Season 8
About "NATO"
The following consists of the complete season release of cases and briefs from for the topic "NATO." Upon purchase, you will have access to Word documents containing each of the cases and briefs listed. NOTE: Notice the release dates at the footer of every page. It is strongly advised to check each hyperlink before running any piece of evidence in an official debate round.
Resolved: That the North Atlantic Treaty Organization (NATO) should be significantly reformed or abolished.
Download #1: Introductory Articles (August 2006)
The North Atlantic Treaty
About NATO
Tying the Resolution to the Round
Affirmative Strategies
Negative Strategies
Case Summaries
Download #2: Cases (August 2006)
INTRODUCTION
THAT'S ALL FOLKS: THE CASE FOR ABOLISHING NATO
ENOUGH ALREADY: THE CASE FOR STOPPING NATO EXPANSION
PAPER TIGER: THE CASE FOR REFORMING THE NATO RESPONSE FORCE
NO PLACE LIKE HOME: THE CASE FOR BANNING "OUT-OF-AREA" MISSIONS
"UN"ACCEPTABLE: THE CASE FOR DISENGAGEMENT FROM THE UNITED NATIONS
DEAL WITH THE DEVIL: THE CASE FOR ABANDONING THE ISTANBUL COOPERATION INITIATIVE
HARD CURRENCY: THE CASE FOR FAIR FUNDING OF NATO OPERATIONS
OUTVOTED: THE CASE FOR REFORMING NATO'S DECISION-MAKING PROCESS
INSIDE THE LINES: THE CASE FOR A DEFENSE-ONLY ALLIANCE
NO STRINGS ATTACHED: THE CASE FOR ENDING NATIONAL CAVEATS
LET'S MAKE A DEAL: THE CASE FOR RATIFYING THE C.F.E. TREATY
PENALTY BOX: THE CASE FOR INTERNAL DISCIPLINE AND SANCTIONS ON TURKEY
NEGATIVE BRIEFS

AFGHANISTAN MISSION IS WORKING
ARTICLE V – USELESS
ASIAN COUNTRIES JOINING NATO – NEGATIVE
BOSNIA FAILURE
CAPABILITIES IMPROVEMENT – NOT NEEDED
CAVEATS – NOT A PROBLEM
CFE TREATY RATIFICATION – NEGATIVE
CHINA IS BAD
CHINA IS GOOD
DARFUR/SUDAN
DECISION-MAKING / CONSENSUS REFORM
DEFENSE-ONLY – NEGATIVE
DEMOCRACY SPREADING – BAD
DEMOCRACY SPREAD – GOOD
EUROPEAN-US RELATIONSHIP – NOT A PROBLEM
EXPANSION OF NATO – NO PROBLEM
COMMON FUNDING
FUNDING SOURCES FOR PLANS
HEGEMONY DISADVANTAGE
HEGEMONY – NOT A PROBLEM
ISTANBUL COOPERATION INITIATIVE – GOOD
INTERNATIONAL INTERVENTION — BAD
INTERNATIONAL INTERVENTION — JUSTIFIED
KOREA
KOSOVO FAILURE
MIDDLE EAST INTERVENTION
MISSILE DEFENSE
NATO IS BAD – DON'T STRENGTHEN IT
NATO IS GOOD
NATO IS IRRELEVANT
NATO RESPONSE FORCE (NRF)
NUCLEAR PROLIFERATION
OUT OF AREA MISSIONS – NO PROBLEM
RUSSIA IS DANGEROUS
RUSSIA IS GOOD – DON'T PROVOKE THEM
RUSSIA JOINING NATO – NEGATIVE
RUSSIA RELATIONSHIP — BAD TODAY
RUSSIA RELATIONSHIP — GOOD TODAY
SOURCE INDICTMENTS
TAIWAN
TERRORISM
TURKEY – DOING FINE
UNITED NATIONS IS BAD
UNITED NATIONS IS GOOD
EUROPEAN UNION COUNTERPLAN
ADDITIONAL EVIDENCE: EU COUNTERPLAN
U.N. COUNTERPLAN
ADDITIONAL EVIDENCE: UN COUNTERPLAN
U.S. UNILATERAL COUNTERPLAN
ADDITIONAL EVIDENCE: US UNILATERAL COUNTERPLAN 
Download #3: Advanced (November 2006)
AUTHORS
INTRODUCTION
GOING ADVANCED
GAME OVER: THE CASE FOR ABOLISHING NATO
CLEAR AND PRESENT DANGER: THE CASE FOR BANNING DEPLETED URANIUM
TAMING THE BEAR: THE CASE FOR EASTERN EUROPEAN WITHDRAWAL
PUT ON THE BRAKES: THE CASE FOR SABATOGING THE ESDP
SUPERSIZE IT: THE CASE FOR INCREASED EUROPEAN CAPABILITIES
LET MY PEOPLE IN: THE CASE FOR ISRAEL AND JORDAN IN NATO
LOCK THE DOOR: THE CASE FOR HOMELAND SECURITY IMPROVEMENTS
SPEAK UP: THE CASE FOR REFORMING THE MEDITERRANEAN DIALOGUE
NO NUKES: THE CASE FOR ENDING NUCLEAR SHARING AGREEMENTS
EXIT STRATEGY: THE CASE FOR ELIMINATING NATO PEACEKEEPING
MERCHANTS OF DEATH: THE CASE FOR DISCIPLINE OF SLOVAKIA
BREAKING UP: THE CASE FOR U.S. PULLOUT
WHEN A PLAN COMES TOGETHER: THE CASE FOR INTEGRATED SPECIAL OPERATIONS FORCES (SOF)
LET FREEDOM RING: THE CASE FOR A TRANSATLANTIC FREE TRADE AREA
TEAM PLAYERS: THE CASE FOR USING NATO TO IMPROVE UN PEACEKEEPING
HOMECOMING: THE CASE FOR REMOVING U.S. TROOPS FROM EUROPE
LAST TRAIN TO LONDON: THE CASE FOR A US/UK ALLIANCE
NEGATIVE BRIEFS

NEGATIVE BRIEF: AGAINST ABOLISH NATO
NEGATIVE BRIEF: DEPLETED URANIUM
NEGATIVE BRIEF: EASTERN EUROPEAN WITHDRAWAL
NEGATIVE BRIEF: SABATOGING EU DEFENSE FORCE (EUROPEAN SECURITY AND DEFENSE POLICY/ESDP)
NEGATIVE BRIEF: AGAINST INCREASING EUROPEAN DEFENSE SPENDING
NEGATIVE BRIEF: EXPULSION/DISCIPLINE
NEGATIVE BRIEF: ISRAEL/MIDDLE EAST
NEGATIVE BRIEF: HOMELAND SECURITY
NEGATIVE BRIEF: MEDITERRANEAN DIALOGUE ENHANCEMENT
NEGATIVE BRIEF: TACTICAL NUCLEAR WEAPONS – NOT A PROBLEM
NEGATIVE BRIEF: PEACEKEEPING BY NATO IS GOOD
NEGATIVE BRIEF: SLOVAKIA ARMS TRADE
NEGATIVE BRIEF: SPECIAL OPERATIONS FORCES (SOF)
NEGATIVE BRIEF: AGAINST TRANSATLANTIC FREE TRADE AREA
NEGATIVE TOPICALITY: CAN'T ADD NEW COUNTRIES TO NATO
NEGATIVE TOPICALITY: REFORMING NATO OPERATIONS IS NOT TOPICAL
NEGATIVE BRIEF: AGAINST REMOVING U.S. TROOPS FROM EUROPE
NEGATIVE BRIEF: U.S. PULLOUT FROM NATO
NEGATIVE BRIEF: UN PEACEKEEPING/NATO SUPPORT
NEGATIVE BRIEF: US/UK ALLIANCE
PARTNERSHIP FOR PEACE: FRAMEWORK DOCUMENT
Download #4: Blue Book Midseason Supplement (January 2007)
CASE SUMMARIES FOR MIDSEASON
FROM THE GROUND UP: REFORMING NATO'S AFGHANISTAN MISSION
AND JUSTICE FOR ALL: CASE FOR AFGHAN PRISONER REFORMS
NO STRINGS ATTACHED II: NEW & IMPROVED CASE FOR REMOVING CAVEATS
BEST LAID PLANS: THE CASE FOR DEFENSE PLANNING REFORM
DAY OF RECKONING: THE CASE FOR GLADIO ACCOUNTABILITY
JOIN THE CLUB: THE CASE FOR ENHANCED MEMBERSHIP REQUIREMENTS
MAKING THE TEAM: THE CASE FOR NATO-RUSSIA COOPERATION
AFFIRMATIVE TOPICALITY: REFORMING NATO OPERATIONS IS TOPICAL
AFFIRMATIVE TOPICALITY: ADDING NEW MEMBERS IS TOPICAL
NEGATIVE BRIEFS

NEGATIVE BRIEF: AFGHANISTAN NARCOTICS
NEGATIVE BRIEF: AFGHANISTAN IS HOPELESS
NEGATIVE BRIEF: AFGHAN MISSION
NEGATIVE BRIEF: AFGHANISTAN WITHDRAWAL
NEGATIVE BRIEF: AIRLIFT CAPABILITY
NEGATIVE BRIEF: AUSTRALIA
NEGATIVE BRIEF: CAPABILITIES GAP
NEGATIVE BRIEF: CAVEAT REMOVAL
NEGATIVE BRIEF: CAPABILITIES-BASED DEFENSE PLANNING (CBP)
NEGATIVE BRIEF: CHINA
NEGATIVE BRIEF: DARFUR INTERVENTION
NEGATIVE BRIEF: DECISION-MAKING CHANGES
NEGATIVE BRIEF: ENGLISH LANGUAGE TRAINING
NEGATIVE BRIEF: EXPANSION IS BAD
NEGATIVE BRIEF: FRANCE IS GOOD
NEGATIVE BRIEF: GLADIO ACCOUNTABILITY
NEGATIVE BRIEF: GLOBAL SCOPE
NEGATIVE BRIEF: HUMAN RIGHTS/AFGHAN PRISONERS
NEGATIVE BRIEF: IRAN
NEGATIVE BRIEF: MEMBERSHIP REQUIREMENTS
NEGATIVE BRIEF: MIDDLE EAST ROLE FOR NATO
NEGATIVE BRIEF: NATO IS IRRELEVANT
NEGATIVE BRIEF: NEW MISSIONS
NEGATIVE BRIEF: RUSSIA COOPERATION/NATO-RUSSIA COUNCIL (NRC)
NEGATIVE BRIEF: SHANGHAI COOPERATION ORGANIZATION (SCO)
NEGATIVE BRIEF: SPECIAL OPERATIONS FORCES (SOF)
NEGATIVE BRIEF: TERRORISM – FOREIGN OCCUPATION IS THE ROOT CAUSE
NEGATIVE BRIEF: TROOPS NOT AVAILABLE 
Contributors
Vance Trefethen, author of Keys to Team-Policy Debate and head coach of Training Minds Camps.
Chris Jeub, debate coach and owner of Monument Publishing.
Matthew Baker, 2004 and 2005 National NCFCA Finalist.
Rachel Blum, 2006 National NCFCA Finalist.
David Carter, Coach of Peak Debaters, Colorado Springs.
History of This Resolution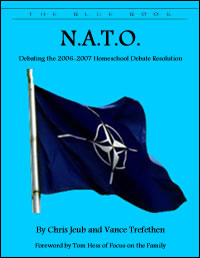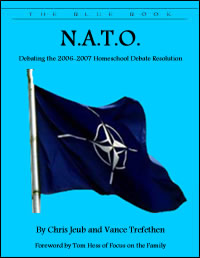 Following the 10th year anniversary of the NCFCA in 2006, the league released an international topic of reform: "Resolved: That the North Atlantic Treaty Organization (NATO) should be significantly reformed or abolished." Monument Publishing pulled together one of the largest repositories of cases, briefs and educational material in its history. The National Tournament was held at the University of Mary Hardin-Baylor in Belton, Texas, where Samuel Hoel/Allison McCarty took 1st Place. Sam and Allison contributed to Blue Book the following year.
Contributors to this edition include Vance Trefethen, Chris Jeub, Matthew Baker, Marla Blum and David Carter.