Released: Filed Under: Archive Library Tagged With: Lincoln-Douglas, Season 13, Stoa
About "Moral Obligation to Assist Nations"
The following consists of the complete season release of cases and briefs from for the topic "Moral Obligation to Assist Nations." Upon purchase, you will have access to Word documents containing each of the cases and briefs listed. NOTE: Notice the release dates at the footer of every page. It is strongly advised to check each hyperlink before running any piece of evidence in an official debate round.
Resolved: That governments have a moral obligation to assist other nations in need.
1. Original Release of Red Book – August 1, 2012
Section 1: Articles

You're a Fascist
How to Defend Your Value
Unintended Consequences
Epic Fail
Old Guys, New Times
Bailout

Section 2: Cases

A Chance to Really Live

Addendum for Affirmative Case "A Chance to Really Live"
Negative Brief against Aff Case "A Chance to Really Live"

The Worth of All Men

Negative Brief against Aff Case "The Worth of All Men"
Save Me

Negative Brief against Aff Case "Save Me"

Do No Harm
Affirmative Brief Against Negative Case "Do No Harm"
2. Midseason Release – December 31, 2012
Resolutional Articles

Definitions Brief
Power Politics
Private Intervention, Aid, and Charity
Introducing the Meta Framework
Philosophical Obligations of Governments
Isolationism: Punishment or Blessing?
Food, Water and Starbucks
4 Ways You're Tagging Wrong
Genocide
The Alliance

Affirmative Cases

Words AND Deeds
The Samaritan Principle
Stopping Genocide
Protection of Human Life
Safety First
Angry Birds and Aiding Nations

Negative Cases

The Government Can't
Mind Your Own Business
Oh, the Irony
The Purpose of Government
Moral Obligation vs. Praiseworthiness
Private Sector Military Intervention
You're Not a Bad Person
Purchase includes two Word documents covering the content listed above.
History of This Resolution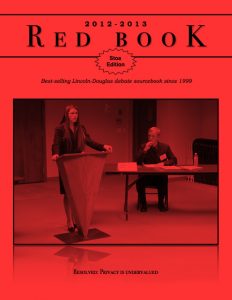 This sourcebook was provided in print edition for the 2012-2013 NCFCA resolution listed above, the resolution debated for the 2013 NCFCA National Tournament at Oral Roberts University in Tulsa, Oklahoma. Monument Publishing provided a summer print copy as well as a Midseason Supplement, both available in this download.
Monument Publishing ran a Nationals Intensive Training Camp (NITC) in Tulsa in June 2013. This group of NCFCA debaters gathered across the street from Oral Roberts University. They prepared under coaches Travis Herche, Vance Trefethen and Chris Jeub for the weekend to prepare for their week of competition. Several awards were taken home as a result of their preparation.
Contributors to this edition included Jon Bateman (editor), Blaire Bayliss, Tyler Burton, Caleb Delon, Matthew Erickson, Elizabeth Ertle, Travis Herche, Cynthia Jeub, Alex Sargent, Michael Tcheau, and Brooke Wade.