Released: Filed Under: Archive Library Tagged With: Policy, Season 15, Stoa
About "Electronic Surveillance"
The following consists of the complete season release of cases and briefs from for the topic "Electronic Surveillance." Upon purchase, you will have access to Word documents containing each of the cases and briefs listed. NOTE: Notice the release dates at the footer of every page. It is strongly advised to check each hyperlink before running any piece of evidence in an official debate round.
Resolved: The United States federal government should substantially reform its electronic surveillance law.
Initial Release (August 1, 2014)
THE NAKED EYE: THE CASE FOR REFORMING AIRPORT NUDE BODY IMAGE SCANNERS
A CAPITAL IDEA: THE CASE FOR DISTRICT OF COLUMBIA PRISONER MONITORING
GAME OF DRONES: THE CASE FOR DOMESTIC DRONE SURVEILLANCE REFORM
I'VE GOT A SECRET: THE CASE FOR ECPA SECRECY REFORM
WAIT A MINUTE MR POSTMAN: THE CASE FOR THE EMAIL PRIVACY ACT
BIG BROTHER IS WATCHING: THE CASE FOR THE GEOLOCATION PRIVACY & SURVEILLANCE ACT
DOES NOT COMPUTE: THE CASE FOR IMMIGRATION SURVEILLANCE DATABASE REFORM
BALL AND CHAIN: THE CASE FOR POST-SENTENCE ELEC. MONITORING REFORM (WALSH ACT)
SHORT LEASH: THE CASE FOR PRE-TRIAL MONITORING REFORM FOR FEDERAL DEFENDANTS
SEEING RED: THE CASE AGAINST RED LIGHT CAMERAS
HERE, THERE AND EVERYWHERE: THE CASE FOR ROVING WIRETAP REFORMS
PHONE HOME: THE CASE FOR SETI (SEARCH FOR EXTRA-TERRESTRIAL INTELLIGENCE)
BONUS CASE!!! I ALWAYS FEEL LIKE SOMEBODY'S WATCHING ME: THE CASE FOR USA FREEDOM ACT
Midseason Release (December 31, 2014)
GENERIC BRIEF: Privacy Essential — Stop Compromising It
GENERIC BRIEF: Privacy Overrated — Stop Worrying About It
NEGATIVE BRIEF: One Way Mirror for Gov 2.0
NEGATIVE BRIEF: Street Cameras — Good
NEGATIVE BRIEF: Court Cameras — Bad
NEGATIVE BRIEF: National Security Letters
NEGATIVE BRIEF: NSA Restructuring
NEGATIVE BRIEF: ZBV Z-Backscatter Vans
NEGATIVE BRIEF: FISA Court Ruling Declassification
NEGATIVE BRIEF: FISA 702 Reform / PRISM
NEGATIVE BRIEF: Police Cameras / Federal Funding
NEGATIVE BRIEF: Tower Dumps / Stingray
NEGATIVE BRIEF: CISPA
NEGATIVE BRIEF: Metadata Collection (Section 215) — Not a Problem
NEGATIVE BRIEF: FISA Amendments Act — Good, Don't Repeal It
NEGATIVE BRIEF: Patriot Act — Good
NEGATIVE BRIEF: Evidence Suppression / Exclusion
NEGATIVE BRIEF: NSA Decryption Back Doors
NEGATIVE BRIEF: Cookies
NEGATIVE BRIEF: License Plate Cameras — Bad
History of This Resolution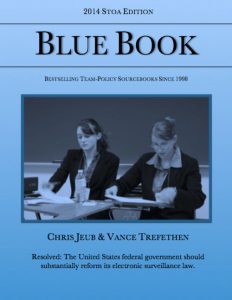 Stoa 2014-2015 Policy Resolution
This sourcebook was provided in print edition for the 2014-2015 Stoa resolution listed above, the resolution debated for the 2015 National Invitational Tournament of Champions at Bob Jones University in South Carolina. Jack Anderson and Jonathan Lyle were tournament champions in team-policy debate and were featured on the cover of the 2015-2016 Blue Book.