Released: Filed Under: Archive Library Tagged With: Policy, Season 16, Stoa
About "Eastern Trade"
The following consists of the complete season release of cases and briefs from for the topic "Eastern Trade." Upon purchase, you will have access to Word documents containing each of the cases and briefs listed. NOTE: Notice the release dates at the footer of every page. It is strongly advised to check each hyperlink before running any piece of evidence in an official debate round.
Resolved: The United States federal government should substantially reform its trade policy with one or more of the following nations: China, Japan, South Korea, Taiwan.
Download #1: Spotlight Articles (August 2015) plus Early Season Addendum (October 2015)
History of East Asia Trade
The Status Quo of East Asia Trade
Evidence
Spotlight Cases:

Spotlight #1: "AARGH! The Case for WTO Retaliation for Chinese Cyber Piracy" (Summary, Case, 2A, Neg Brief)
Spotlight #2: "It's a Gas: The Case for Exporting LNG to Japan" (Summary, Case, 2A, Neg Brief)
Spotlight #3: "The Buck Stops Here: The Case for Stopping Currency Manipulation" (Summary, Case, 2A, Neg Brief)

Complete Early Season Downloads

Case #1 Chinese Cyber Piracy
Case #2 LNG to Japan
Case #3 Currency Manipulation
Case #4 China Export Controls
Case #5 End China Arms Embargo
Case #6: Oil Export to S.Korea
Case #7 Chinese Mercantilism
Case #8 End Taiwan Arms Sales
Case #9 Taiwan Submarines
Case #10 End KORUS FTA
Case #11 Taiwan FTA
Case #12 Solar Panels
Download #2: Midseason Supplement (January 2016)

1st Release – 12/16/15
Trade Deficits Don't Matter
Trade Deficits Do Matter
Foreign Trade Irrelevant to the US Economy
Trade Liberalization / Free Trade – bad
Trade Liberalization / Free Trade – good
China is No Threat
2nd Release – 12/24/15
Repeal Anti-Dumping Duties
Bilateral Investment Treaty with China
CHUSTIA – China/US Trade & Investment Agreement
CHRPA – China Human Rights Protection Act
Korean Car Quotas
Declare China a "Market Economy"
3rd Release – 1/1/16
Food Inspections – China
Formaldehyde in Wood Exported to Japan
Formaldehyde in Wood Imported from China
Intellectual Property Rights Protection
S. Korea Missile Defense
Trans-Pacific Partnership
Contributors
Vance Trefethen, author of Keys to Team-Policy Debate and head coach of Training Minds Camps.
Stefanie Klaves, 2015 National NCFCA Finalist and Region 6 Champion.
Eric Meinerding, National contender as Wisconsin quarterfinalist in NCFCA.
History of This Resolution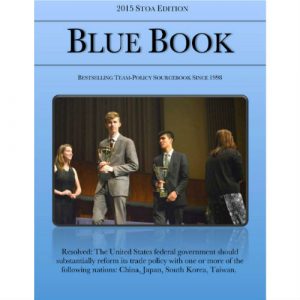 Stoa 2015-2016 Policy Resolution
The National Invitational Tournament of Champions was held in Springfield, Missouri. Monument Publishing hosted a National Intensive Training Camp the weekend before, and 80% of its teams broke to out-rounds. The final round was between Laura Hempton / Justin Holiman of California and Jake Johnson / Ryan Klimek of Colorado.